What is it about the rush of a free fall, the twist and whip of a roller coaster, the mischievous thrill of driving at extreme speeds that evokes in me a childlike exhilaration. Is it the derived sense of freedom and letting go? For so many of us, life has become so mundane and "normal" that we seek out ways to live on the edge even if just for a moment. In those short seconds we are untouchable, unstoppable, we remember that there was a time when we believed we had super human powers.
I am not a risk taker by any stretch. Ask most anyone who knows me, or has worked with me and by all accounts they will describe me as calculating, exact, rational. But, still there is this little corner of my spirit that has a hunger for the thrill of the extreme. Somewhere between the demands of having a career, and living up to societal expectations to produce, conform and be more, I lost that vision. I packed up my cape and put on my entrepreneurial garb.
I remember when I was a little girl, my family would take road trips every summer, visiting ballparks, beaches, and without fail an amusement park, or a waterpark. I know, we sound like the Griswald's, right!? We even had a station wagon! Those trips continue to be among my fondest memories. The sno cones and funnel cakes, the time with my family, the summer heat were all awesome parts of our adventures. But it is something more deeply imbedded that leaves those experiences so vividly etched in my memory. The response is not just emotional. There is something that physically affects me about those memories. I recall the jitters of anticipation as I waited our turn to load into the seat of the coaster, or the last deep breath as I plopped down on the center of the innertube and the rushing water whisked me away into the darkness of the rumbling tunnel. The shrill scream as you were half blinded by the sun just before plummeting to a deep dive into the pool. Oh yeah, and don't forget the unforgiving wedgie that was proof that you were going at record speeds right to the end!
I remember the same incredible rush when I think about the Porsche my dad had when I was in Middle School, and then again when I got my dream car in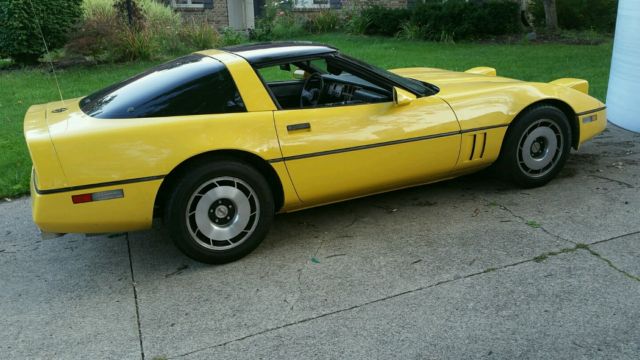 high school. A bright yellow 1986 T-top Corvette with a digital speedometer and 250 horsepower engine when I was in High School. Much to my mom's dismay my dad and I took both cars out on the vacant highway one night just to see how fast we could go. Man, what a ride. As a kid, the steeper the slide, the more flips and stomach-in-throat drops of the coaster, the more I wanted in. The faster the car, the more acceleration in the engine, the harder I pressed that pedal. No fear, no calculations of consequences. What happened to the fearless 4 foot nothing 10-year-old who never met a risk she couldn't conquer. I refuse to believe it was as simple as "ignorance is bliss"…, because I was pretty darn smart even then. I think we all believed at some point in our lives that we were super heros. Because I believed it, I lived it.
It wasn't until this year that I realized how much this innocent, unadulterated emotional release was missing in my life. I find this so interesting now as I reflect on my daily life, and the resistance to spontaneity, the fear of uncertainty, and the need to maintain control over emotions and behaviors both personally and professionally. It is hard to build a brand, and create a reputation while also being as vulnerable as a child on a roller coaster. You are throwing your hands up and saying, "Look at me!", but don't judge me.  It is a hard line to straddle.
This past April, I rediscovered that thrill; what it felt like to free fall into life, and I have not forgotten it since. Stewart, my husband and 49-year-old man-child, wanted more than anything to go to Harry Potter world for his birthday. Being the amazing wife that I am, I made it happen. We jumped on the 2-hour flight to Orlando to visit Universal Studios for the weekend. I had no idea what to expect. I had not been on a roller coaster in 15 years. Would I get sick? Would I be able to handle it physically? I have been battling the pain of disc herniation in my lower back for the better part of 2 years. I did not want my pain to ruin this trip, but I had fears.  Nevertheless, I was in. We spent the weekend in Wonderland. The architecture and attention to detail was spectacular, the real-life characters and costumes, and of course the rides were all we could have hoped. 
However, it was something that was reborn inside me, something I could not see or touch. It was a palpable emotional response. Every ride we exited, there was another layer of energy, adrenaline, release that I had not felt in years. It made me sad as I realized what a void there had been in my life, but I was also thankful. It allowed me to realize that laughter…involuntary, deep-bellied laughter was something I rarely did anymore. Smiling, something as simple as smiling; I couldn't stop! It was truly overwhelming…and I wanted more. 
Oh, I got more. Stewart gave me 5 laps on a closed course in a Dream Car of my choice for my Birthday back in December (https://www.musiccitydreamcars.com/closedcourse). Due to weather, the date kept getting pushed back, but finally on July 14, I buckled into the driver's seat of a Red Lamborghini Huracan with a 640 horsepower engine, and performance speed of 0-62mph in 3.1s! Power and performance would be an understatement, that machine was out of this world. Mashing that pedal on a straightaway and take the corners at max speed. My new mantra, "smooth is fast". I started to think as I formulated this blog, what are the odds that just this year Stew and I would give one another the gift of the adventure and speed. I believe that we subconsciously knew that we needed this back in our lives.
It is one thing to experience these thrill-seeking moments on special occasions, but I want to experience that rush everyday, I deserve to find that thrill and so do you. Who are we if we don't live everyday moved by the feelings of exuberance that results from moving through space at smooth yet unencumbered speed of a high-performance machine. How do we bottle up the emotion of a free fall and recreate a thirst for being unstoppable in everything we do? I want to redefine my self and live my creed. What is my superhuman persona, and how can I live this while not losing the authenticity of who I am, really. What is wrong with living parts of your day as another version of self? Can't we all wear a wonder woman tiara? Can't we unveil the sword of She-ra or call upon the strength of He-man in moments of adversity and struggle. When we need that next level of mental acuity to meet a deadline, that last ounce of strength to hammer a final rep, to battle through fatigue and cross the finish line first, the willpower to say no to the temptation and avoid sabotaging our efforts just for a morsel of gratitude.  
Life presents us with many landmines and potholes, sometimes I question Dr. Tiff can handle. But I have realized is that it is my choice to put on my cape and tiara so that I can tap into my super powers. The ability to be brave, authentic and live my truth no matter what the twists, turns and bumps in the road. I am committed to seeking the thrill of adrenaline that reminds me that I have endless strength, unmatched confidence and the power to overcome all my fears. I am Dr. Tiff…I am Enough. What about you?